Accessories Made Easy
Our mission is to be the go-to resource for coordinating home accessories across a diverse range of lifestyles and budgets and to simplify the buying experience for designers, retailers and end consumers.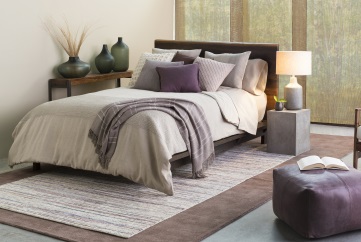 Trends: Origami (Top) & Masala (Bottom)
Experts at merging form with function, we translate the most relevant apparel and home decor trends into fashion-forward products across a range of styles, price points and categories – including rugs, lighting, pillows, throws, wall decor, accent furniture, decorative accents, and bedding. To broaden our product offering, we partner with some of the most talented names in home fashion, including celebrity designer Candice Olson, noted performance brand Sunbrella, and design authority ELLE DECOR, to name just a few.
 
From classic to contemporary, our selection of over 60,000 inspired products provides fresh, colorful and on-trend options for every lifestyle and budget.
 
While offering attractive, high quality products is important, we recognize that products are only one part of the equation. Focused on optimizing the customer experience, we back each of our products with an unwavering commitment to quality and service. From our innovative display , merchandising and sales tools to extensive in-stock inventory, flexible custom programs and national showroom presence, we provide the resources that designers and retailers need to build strong home accessories programs.
 Our History at a Glance
In 1976, a chance encounter in North India between a buyer from Federated Group (now Macy's) and Surya Tiwari led to the creation of Surya Rugs, which started out as a small supplier of hand-knotted rugs. Realizing that it was critical to have more direct contact with customers, Surya Tiwari established a division in the U.S. in 1986 and appointed his son, Satya, as president in 2006.
 
With the goal of becoming the go-to resource for coordinating, fashion forward home accessories, Satya has incrementally added new categories to Surya's initial rug offerings. Like his father, Satya continues to push the boundaries of the home decor industry by continually investing in people, products, technology, and infrastructure to address customer pain points and to help customers succeed.
 
Under Satya's leadership, Surya continues to thrive and has been named to the Inc. 5000 list of America's fastest growing privately-held companies for seven consecutive years. Satya was awarded the 2017 EY Entrepreneur of the Year Award in the Southeast region, and Surya has been honored with numerous visual display, technology and product design awards.
 
Surya's corporate headquarters and 1-million square-foot distribution center is located in White, GA.